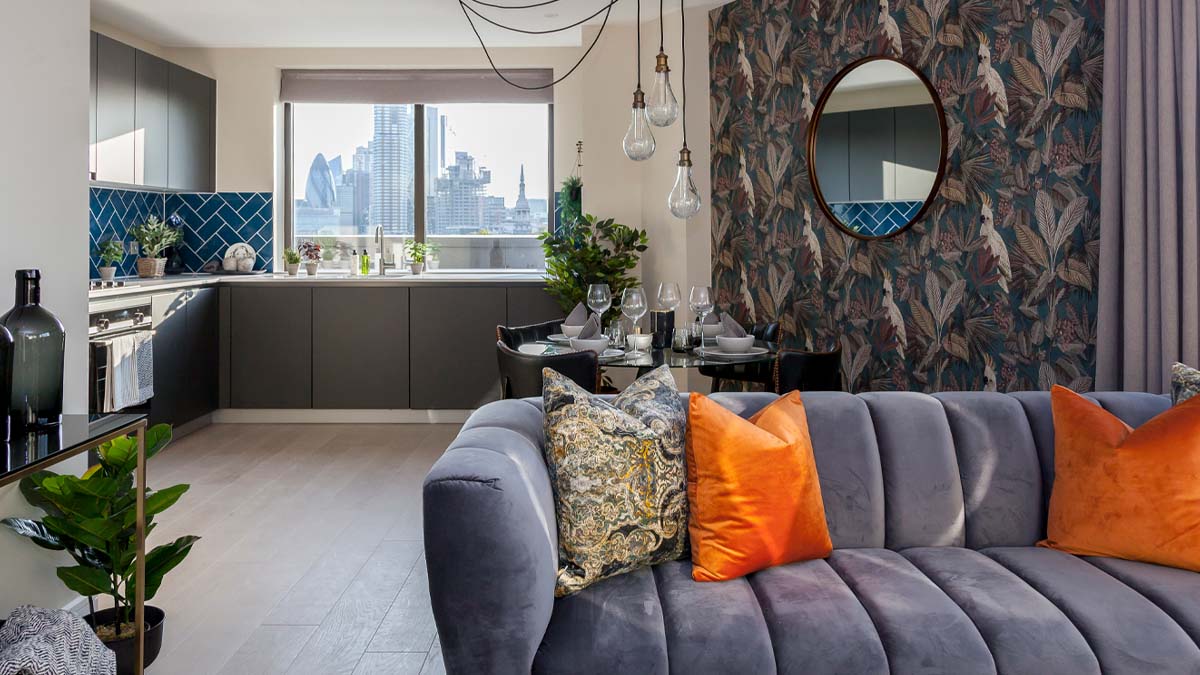 A seemingly, endless stream of regeneration initiatives taking place in London is giving would-be and established investors a nice problem to solve. Almost everywhere within Zones 3 – 6 now falls into the category of "desirable", "up-and-coming" or "property hotspot". So, where best to concentrate a property portfolio and furthermore, is the North London/South London property divide still a thing?
Whichever side of the River Thames, there are factors that remain constant to tenants and are, therefore, relevant to any prospective landlord, owing to the fact that they are mostly centred around lifestyle requirements.
Tenants are always on the lookout for the latest shops, bars and restaurants because – like good schools and new builds – they tend to be a reliable indicator of the health of an area. As always, short, uncomplicated commutes to work (or study) and good value for money form the foundation of their decisions, but with today's hybrid approach to employment and learning, lifestyle factors are becoming more and more relevant. Of course, you can find various combinations of these requirements throughout London, but this short overview of selected North and South London areas could help you stay one step ahead of the trends.
Cost
Land Registry data for February 2022 shows that average house prices in the boroughs of Croydon, Lewisham, Sutton and Greenwich remain well under the half-million mark, making them among the cheapest places to buy in London which overall has seen average prices rise to £529,822.
Croydon is now home to several regeneration projects, which, combined with good amenities, a short commute to central London and an average house price of £405,910 makes for an attractive investment proposition. Lewisham, with an average price of £435,846, has a funkier feel and is directly connected to Canary Wharf by the DLR network – good for corporate tenants. Family-friendly Sutton is becoming known for good school results and affordability (£426,963), while the maritime heritage and historical riverside attractions of Greenwich make it a genuine rental hotspot, despite average house prices of £426,088.
The same study shows that there is just one area in the north that competes in terms of affordability. Previously viewed as a sleepy suburb, Enfield is having a reawakening. Good transport links make Central London an easy commute but it's the influx of new shops and restaurants that are currently giving it a buzz. Add to that an average house price of £436,832 and you have an area that is ripe for investment and growth.
Yield
Rental yields (that is, the expected monthly rent multiplied by 12, divided by the purchase price and multiplied by 100) can vary within the same borough, so a little more digging is required. In London, anything above 4% is worth further investigation and both sides of the river contain hidden gems of profitability.
Bermondsey, Peckham and Lewisham in the south offer yields of 4.0%, 4.2% and 4.4% respectively and the general trend is for yields to increase, the further you go out. However, rentability is a massive factor as there's no use landing a "bargain" in the middle of a dwindling tenant pool. Sutton/Morden wins big here, as it's on the Thameslink/Northern Line route into London while being pretty affordable. Yields are 4.6%.
There are no riverside bargains in North London. You have to venture a little further afield to places like Wembley and Enfield for yields of 4.4% and 4.5%. Both areas are supremely well-connected and Enfield, especially, has that recession-proof North London "desirability factor".
Investment
Lewisham makes a second appearance, thanks to a £3.6bn project, aimed at improving transport links. A proposed extension to the Bakerloo underground could definitely have the same effect that the Jubilee Line project had on Greenwich.
Bromley and Mitcham have planned investment in the housing stock and while yields are promising (4.6%) there needs to be more investment in public transport before these are really worth considering.
Meanwhile, Hornsey in north London is an unassuming area between Crouch End and Alexandra Palace that is seeing billions in housing investment. New developments combined with good transport links are making this an area of interest.
Transport
New or improved transport networks are opening up previously overlooked areas and acting as a catalyst for investment. A new train station in Meridian Water, North London has prompted a 210-acre regeneration zone with 10,000 new homes and places of business.
The much-heralded Crossrail (Elizabeth Line) will open up a large swathe of Southeast London with districts like Abbey Wood and Woolwich becoming immediately accessible. Crossrail 2 is still being debated, but it is a super ambitious plan to link Northeast and Southwest London: a plan that will see two of our investment targets, namely Enfield and Sutton seem even more like bargains.
Decision Time
Speaking to local lettings agents is always the best way of locating a letting market hotspot in any area: North or South. Being aware of new developments, investment in amenities and improved transport links are only part of the consideration as a landlord though. Tenants seek out good value for money and want to rent a property that is both stylish and comfortable. In an up-and-coming area, with a wide choice of properties available, what will set yours apart is the furnishings and décor. And that holds whichever side of the Thames you choose.
If you'd like advice on where to buy in London for the best investment, you can speak to a member of our sales team by completing the form here.