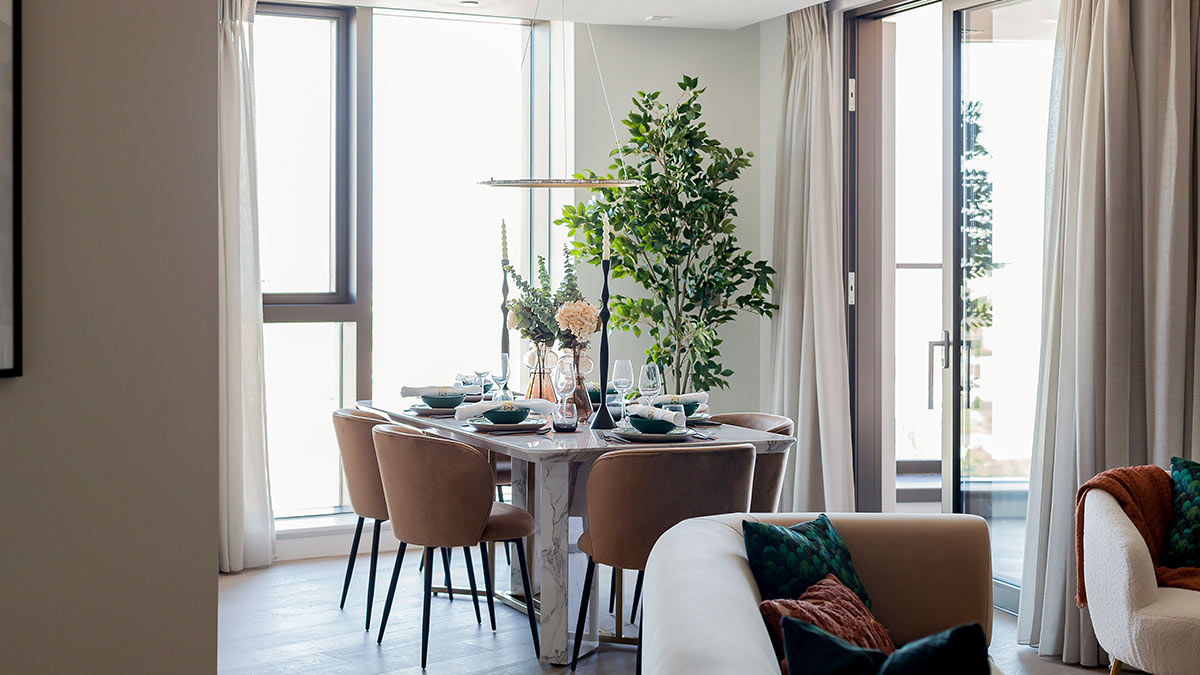 Although the daily challenges of the pandemic are firmly in most people's rear-view mirror, they have clearly left some lasting effects. The fundamental desire to make a home as secure and safe as possible now applies to all levels: aesthetic, functional and social. Residents want to feel that their chosen lifestyle is reflected in the design and furnishings that surround them, but what they don't want is a space that alienates and excludes.
So, as a landlord, how do you provide a design aesthetic that comforts and reassures without it becoming too personalised and therefore only appealing to a niche? You are, after all, in the business of making the apartment appeal to a wide clientele. Well, for a start, good design is about having the right plan. The focus should be on getting the big decisions right at the very beginning and sticking to well-thought-out design principles to ensure a good ROI.
An Enticing Environment
Achieving a ten percent increase in rental revenue is not a matter of luck or sharp sales practice. It takes a good understanding of design styles and a willingness to apply that same understanding to the furnishing of the property. A prospective tenant should have no trouble imagining themselves living in your apartment – its potential should be apparent to them as soon as they step through the front door. We at InStyle Direct believe that a house becomes a home when design considerations go deeper than mere surface looks and that residents can instinctively tell when a layout is aimed at providing an overall sense of well-being. Safety and comfort.
A layered approach to property furnishing is our preferred approach, with comfortable sofas, luxuriant rugs made in-house, complementary colour schemes and suitable lighting all being added to a clean, sharp base. You can achieve this look by:
Simplicity Itself
Ask any reputable interior designer: Luxurious clutter is not a thing. There is no use buying into a sleek, minimalistic concept and then covering it all up with distasteful, expensive, brash accessories. The results are unappealing, confusing and hard to keep clean – And yes, this does instinctively go through viewers' minds. Allow the bold shapes and sharp lines to give the rooms a sense of space and infinite possibilities. Use neutral tones like lilac and grey to form a cool backdrop to your statement items – Beiges and creams are not always the best choice. If you still want a more individual look, then invest in some contemporary art in order to make the walls come alive.
Get Busy
If you want to go in the opposite direction, then it helps to be strategic about it. Bold statement walls and colourful accessories can make a property look busier without adding clutter. Don't be shy about uses pops of purples, crimsons or royal blues: they can lend a palatial look to even the most functional of spaces. Go for geometrical patterns and gold trim and frames as this can be replicated on cushions and curtains.
See it, Feel it
Remember, we all live in 3D, so don't fall into the trap of matching colours only if they look good in a book or swatch. Be sure to check out the texture of your wallpaper, cushions and carpet and see if they match your overall aesthetic. A sofa or bedspread may or may not look luxurious, but people will definitely be able to tell if they feel luxurious. Velvet and silk have long been associated with opulence and luxury and can be used in a variety of ways. Combine them with faux fur and you have a look that can be updated regularly, keeping things fresh and interesting.
Creative Flourishes
You've stuck to your basic design plan and you have been judicious with your furnishing choices. What else can you do in order to make your property stand out? Well, through the years, the thing always gets visitors talking, long after they have left someone's home is their taste (good or bad) in art. A well-considered, strategically-placed piece can lift a whole room, providing focus and context. It is also a chance to make a personal statement about how you view the world and your place in it. Mirrors can form pieces of art in themselves and serve to give a sense of spaciousness and scale. Lampstands, side tables and small fittings can also be as ornate and as individual as your taste dictates. All this creative input can be achieved without detracting from the property as a whole if it is done with care and consideration.
Avoid the Void
Almost any landlord you talk to will tell you that a successful design strategy not only attracts tenants, but keeps them satisfied and ready to pay the asking rent. Of course, keeping them happy means regularly refreshing the look of the property. Don't be tempted to reuse old décor when changing tenancies. Styles change and design trends evolve, so don't think that your "minimalist aesthetic" is an excuse for you not to change your old carpet.
Plan with the Professionals
InStyle Direct is a company with extensive experience in the home furnishings and design field and our sales and design team are ready to collaborate with you. We can plan, advise and assist with every step of your project in order for you to achieve your goal of owning a profitable and hassle-free rental investment.