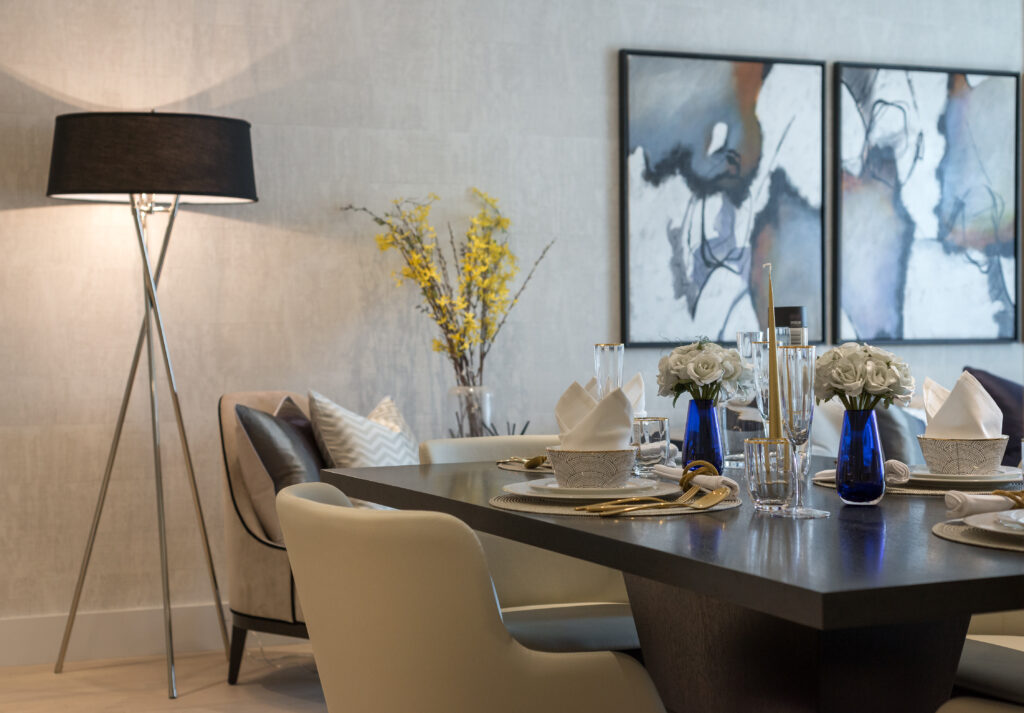 Homestaging, homestyling, dressing a property to sell – whatever you call it, it's an interior design service that delivers results, particularly in today's highly competitive property market. Property developers and estate agents know how effective it is to dress their showhomes beautifully, and it's a vital tool they use to ensure their properties appeal to buyers, achieve a quick sale and a higher purchase price.
Berkeley, Barratt London, Bellway, Mount Anvil and London estate agents such as Gordon & Co and Randall Watts are amongst the companies we work with regularly. So clearly they know how homestaging works – but why is it so effective?
Creating a Home Where Prospective Buyers Can Picture Themselves Living
When we plan to buy a new home, we all aspire to a beautiful interior that reflects our style and good taste. When you present that interior to a prospective buyer, it makes it much easier for them to envisage themselves living there – you've delivered the lifestyle they aspire to.
It's a simple concept but it's definitely the key to good homestaging. 
However luxurious, a plain, neutral apartment in a new-build development is likely to lack that character and individuality. Buyers find it difficult to imagine how they might live there and the type of lifestyle they could enjoy.  And there are practical considerations too. Where will the sofa go?  Will a king-size bed fit in the bedroom?  Is there space for a dining table?
If you're not careful, a brand new property can look bland. And when a buyer is paying upwards of £500k or £600k for a property, a dull interior that lacks personality is unlikely to convince them to part with their hard-earned cash, even more so if there are similar apartment blocks nearby which will have the edge if their showhome has been dressed to showcase that aspirational lifestyle. 
This is even more of an issue in the current economic climate, in a slower market, with intense competition from new developments springing up across London.
Digital Property Marketing
Most homebuyers carry out a property search online first, long before they speak to the developer or an estate agent. Homestaging ensures a property presents more effectively on the thumbnail images that are often featured on many developers' websites or on property portals such as www.rightmove.co.uk or www.onthemarket.com. Online images have to 'sell' a property quickly and entice potential buyers to view in person.
So immediately, superb presentation leads to an increase in the number of viewings which translates into a higher number of sales. 
Dressing a Property to Sell Gives Developers the Edge
Over the last few years, many developers have had to offer buyers substantial discounts in a slower market, with dampened demand caused by Brexit uncertainty. And now coronavirus threatens the recent upturn in sales, with buyers remaining in a good negotiating position. So the most beautifully presented, well built homes will sell most quickly and other properties may languish on the market for longer, impacting the developer's profits.
As a result, home staging remains as important as ever and is a vital part of a property developer's strategy to enhance a property's appeal, increase viewings and of course, sales. 
Benefits to Smaller Developers
Smaller developers in particular find home staging particularly valuable. Smaller companies may lack the marketing budget and the strong brand identity and reputation of larger developers so giving their showhomes the elusive 'wow' factor, both in promotional literature, on websites and 'in the flesh' is an even more important element of their marketing strategy.
Home Staging Translates Directly into Increased Sales
Our developer clients tell us that showhomes that we have dressed for them increase the number of viewings, the amount offered by potential buyers and the timescale between a property going onto the market and a sale, with most finding that the cost of home staging more than pays for itself in the increased offers received. 
Dressing a property means you have done all the hard work for the homebuyer and all they have to do is move in! In fact, we have even found that sometimes, a buyer will ask to buy the furnishings in a showhome as well, they love the look we have created so much! 
If you are a property developer nearing the completion of new development, contact our business development team on +442089641966 or email them at info@instyledirect.co.uk to find out more about how we can present your new showhome at its best, helping you to increase viewings and sales prices.