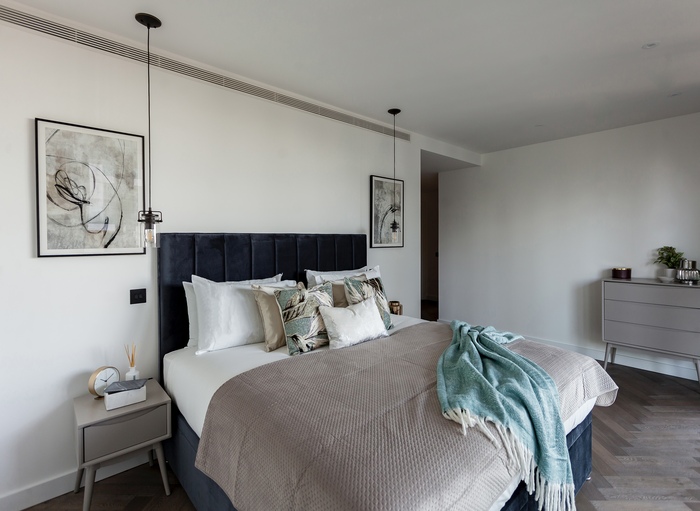 If there is anywhere that you want to feel safe and cosy, it's your bedroom, as you will be spending around a third of your life sleeping, resting, and preparing to go out from there. You will also want it to inspire and motivate you, so making it a stylish space is of the utmost importance. Even with a well-developed personal aesthetic, it still pays to pick up ideas from as many sources as possible because modern, vintage, eclectic, and contemporary looks can all benefit from a refresh.
Below is a selection of cost-effective strategies that involve everything from headboard designs and lighting choices to painting ideas and quirky uses for recycled furniture. Included are many space-saving approaches that put new spins on traditional items like bookcases and side tables. Some of the ideas are basic DIY projects, while some require a little bit of investment. All are imaginative and fun to implement, and all are aimed at amplifying your own personal design philosophy.
Check out these 64 examples of out-of-the-box thinking to let them inspire you as you seek to explore, elevate, and enhance your home surroundings.
1. Be Bold With Black
Frame your favourite bold colour with black for a smart, vintage look. This is particularly effective for the wall behind the bed headboard. A statement colour like green or blue can be outlined by black borders, which gives the room a touch of extra elegance.
2. Metallic Details Add Zing
If your overall colour scheme is neutral, it may need something in order to prevent it from sinking into blandness. Instead of upsetting the balance with colour, try metallic accents like lampstands and table legs.
3. Get Creative With Your Dresser
Give your dresser a custom look by changing the look of the forward-facing drawers. Instead of plain wood, experiment with cutouts of black and white photographs. This allows a nondescript piece of furniture to become an arty centrepiece in your bedroom.
4. Turn Your Bookcase Into a Display Stand
Bookcases can be repurposed into inspired pieces using vibrant colours and a few arty objects. Paint the back of the case with a bright colour and replace the books with mini-sculptures, models and vintage clocks – an instant museum!
5. Find an Alternative to Your Bedside Table
Bedside storage solutions come in all shapes and sizes, but why stick to the traditional table format. Get inspired by your al a carte dining experiences by using a posh-looking drinks trolley instead. Try painting it gold for extra glam points. There'll be plenty of space for books, clocks, and photos, plus you get extra mobility.
6. Recycle Outdoors Items for Indoor Use
Maybe that arched window frame is no longer fit for keeping out the weather, but that doesn't mean it should be discarded. Used as a replacement headboard, this is a feature that will add instant charm to the bedroom, giving it a mellow, countryside vibe.
7. Create a Nautical Theme
You don't have to go overboard (pun intended). Just a few signalling flags above the headboard and some blue/white accessories are enough to bring the seashore to your bedroom. Go for stripes and polka dots for a breezy, refreshing look.
8. Bring the Lights Down
Pendant lights are great devices for helping to change the mood of a room instantly. Hang them high for a bright and airy look, then pull them down for that intimate backlit vibe.
9. The Scandi Look Continues to Evolve
We show no sign of tiring of the minimalist beauty that was pioneered in Scandinavia. That's because it is a look that is practical, flexible, and easy to get right. You can't go wrong with geometric rugs and upholstered headboards as long as you keep clutter to a minimum.
10. Stay Symmetrical
Pair up your nightstands, lamps, and mirrors, making sure that they are precisely arranged: it helps that these items are light and easy to move around. The mirrors will definitely make the bedroom look more spacious, and the bed itself will look and feel more central to the space.
11. Don't Waste Space
Creating an alcove out of a bay window is an imaginative solution to a room that is short on space. Use under-seat storage in order to eliminate clutter and furnish the windowsill with art, books, and flower arrangements. This is how to create a mini haven that sits apart from the main bedroom.
12. Embrace Lavender
Lavender has for centuries been known for its soothing qualities and continues to inspire the way bedrooms are decorated. Both the colour and the fragrance can be utilised. Cushions throws and rugs are all enhanced by its gentle glow, and it's a great colour for making whites look cleaner and fresher.
13. Playing Polka
The iconic polka dot pattern is versatile, striking and fun. Incorporate it into headboards, cushions, and bedspreads for maximum impact. The effect is instant and magical, like creating your very own fairy tale.
14. Beaded Light Fixtures Add Style
Instead of a run-of-the-mill lampshade, try a beaded light fixture. The extra reflections caused by the glass beads allow light to reach the whole room and really help to refresh neutral colours.
15. From Darkness to Light
Complementary shades combine to bring life to any bedroom. A great example of this is a combination of coral pink and emerald green. Use the coral on the walls and contrast this with the bold vibrancy of the green. Apply the green to edges and borders in order to frame and enhance.
16. In the Corner
Don't let corner space go to waste, even in the bedroom. With today's proliferation of mini gadgets, it's a simple matter to convert a corner into a handy office. A built-in shelving unit can house a laptop desk, shelves, and a compact chair. Jazz up the surrounding wallpaper to demarcate it from the rest of the room.
17. Panels That Provide Focus
Installing some panels behind the bed board gives the area some texture and character. As a feature it gives the room extra focus and also provides an interesting backdrop to special features like stylish lamps or unusually shaped side furniture.
18. Graphic Greenery
Nothing relaxes the mind more than images of nature, but instead of generic pictures of wildlife, why not experiment with themed wallpaper. Botanical prints can transform your bedroom into a lush forest landscape. Match the proliferation of green with rustic brown cushions and throws.
19. Extra Wardrobe Space
You will not be too surprised to find out that a built-in wardrobe is near the top of most people's makeover wish list. This doesn't mean that building one should be a solely functional activity. Add some vintage flair by combining panelled sliding doors with a dark satin finish. Learn more about our refurbishment services here.
20. Alternatives to Paintings
Wreaths don't just belong on front doors at Christmas. They can be excellent alternatives to generic paintings or cheesy photographs. Hung over the bedboard, they bring an evergreen freshness to the room.
21. Let the Shape of the Room Inspire You
The underside of a stairwell creating a diagonal line on one side of your bedroom? Turn this into a plus point by using it as a design feature. A sloping bookshelf is a great way to divert attention away from your room's limitations.
22. Save Space With Imagination
A floating nightstand is a great way to save space and also a fantastic optical illusion. Futuristically protruding from the wall, they are easy to clean under and don't get in the way of wallpaper designs.
23. Create an Artistic Centrepiece
The headboard is a natural focal point for the whole room. Don't waste the opportunity to boost its effect by going for uninspired backdrops. This is where you can really express yourself with vibrant artwork and bold colours. Make sure that the shapes in your artwork are complemented by sympathetic bed accessories.
24. One Colour Throughout
This suggestion is not as extreme as you may think. Take blue for example. Differing shades can be employed on the various walls and the ceiling. The effect is surprisingly airy and fresh, and the continuous theme can be offset with creative flourishes, like patterned bedspreads and rugs.
25. Up on the Ceiling
Most people automatically decide to paint their ceilings, but have you given any thought to applying wallpaper? This option is a great way of injecting a design flourish into your bedroom renovation project. There are plenty of graphic wallpaper ranges to choose from that come in a variety of themes and finishes.
26. Light Up Your Walls
Lamps can enhance your choice of wallpaper in a way that differs from natural light. Placing them strategically around the bedroom allows you to change the mood quickly. Task lighting can be used for added brightness.
27. Swing Low
Usually seen as a recreational item, swings can also be employed in a more functional way. Installing one at the side of your bed gives you an interesting variation of the bedside storage solution. Need more capacity? Hang a basket chair from the ceiling. You can use it as storage or as an extra piece of seating furniture.
28. A Headboard With a Difference
Choosing a new upholstered headboard is certainly fun, but so is using your DIY skills to create one. Using a short rail and some cut-to-size curtains, you can come up with something distinctive and easy to adapt.
29. Black Means Sophistication
Mixing satin black paint with a textured surface creates a moody, atmospheric look to any bedroom. The trick is to contrast the severe wall with a light-coloured headboard in order to avoid the room becoming too creepy.
30. Rattan Furniture
Rattan always makes a room look spacious and airy. Reminiscent of colonial luxury, it adds warmth and refinement while being easy to clean and move around.
31. Black and White Without the Bother
Black and white bedrooms can look foreboding, and if you do not break up the lines, they can look boring. Work with different patterns and more feminine shapes. You will find that monochrome rugs are enhanced by mirrors and quirky accessories.
32. Statement Ceiling
Consider your bedroom ceiling as a fifth wall in your quest to add a splash of vibrancy and colour. Instead of predictably using the back of the bedhead to introduce colour, paint the ceiling a daring shade of blue or green.
33. Herringbone: The Perfect Pattern
Great for hiding steep roof lines and adding a touch of elegance, herringbone is a pattern that has a long pedigree. It is busy enough to conceal design quirks, yet it is never overpowering. As a wallpaper, it complements stripes, polka dots and many other intensive design touches that may make up the rest of your décor.
34. Best of Both
So, yo want a console table, but can't do without your nightstand? Why not combine the two? Position your table right beside your bed but add extra space for your favourite night-time accessories.
35. Introduce Extra Seating
You may have ruled out any extra chairs because you want to maximise space. Today's modern designs allow you to avoid clutter while also providing more utility. Mesh-backed chairs with strong, yet slender legs will fit in well with your bedroom and not get in the way. This will also prevent the bed from becoming an island of discarded clothes and books.
36. Allow Built-in Features to Shine
A built-in bookcase can be complemented by a matching canopy bed. This provides continuity and harmony to a room and makes it cosier. Add a matching chair, and you have a lovely corner feature with a character of its own.
37. Slim Down Your Furniture
When it comes to bedroom furniture, there is, currently, a big market for small, space-saving pieces that retain their charm while also enhancing the room as a whole. Narrow nightstands and wall-mounted lamps help keep your floors clear of obstructions.
38. Give Wood Panels a 21st Century Look
Wood panels can look out of place in a modern urban setting, especially if they are dark. Consider painting them an inviting blue-grey colour. They will remain elegant but will avoid making the room look stuffy and uninviting.
39. Layered Lighting
Bringing artificial light sources together is something of an art. By using a combination of overhead lights and table fixtures, you can create a layered effect which really focuses on the best parts of your bedroom.
40. Tassels Add a Touch of Magic
Your bedroom may be contemporary with a few vintage touches, but what can you do to help your additional accessories stand out? Attaching tassels to doorknobs and desk handles is an imaginative way of bringing the artistic side of your room to the fore.
41. Two Colours Combine
A two-tone wall is a clever technique that helps make bedroom furniture come alive. A white panelled base below allows lively patterns on carpets or rugs to add fun. A darker, warmer expanse of grey then provides a solid backdrop for the bed accessories.
42. An Imaginative Use for a Bench
Many bedroom designs feature an upholstered bench at the foot of the bed. Go with this idea, but instead of a plush accessory, incorporate a wooden bench in order to give the room a slightly rustic vibe.
43. Frame by Frame
Create a collage of framed photos that match your room furniture. This is especially effective when giving your space a touch of retro cool. A selection of black frames across the back of the headboard can be matched with a vintage-style bed, complete with retro bed knobs.
44. Curtain Raiser
If your curtains are due for an upgrade, try a different tactic. Extend both the width and length of the panels in order to fashion a canopy that will add a touch of glamour to the room.
45. Bed Decorations
Get ultra-creative with cushions, pom poms, tassels, garlands, and complimentary throw pillows. You can never be too over the top, and you would do well to take inspiration from the wonderful arrangements that can be found in boutique hotels.
46. Use Outdoor Materials
Barn doors are ideal backdrops for your headboard. You can paint them in vibrant colours or stick to dreamy pastels. They can also be used as wall mounts for reading lights.
47. Around the World
Maps – both modern and historical – are a fantastic focal point and continue to tempt the eye with their combination of history and possibility. You can get old maps in second-hand shops and markets, and they needn't cost the earth!
48. Create Your Own Mural
You don't have to have an art degree or a big commissioning budget. You can create a mural by using a selection of peel-and-stick prints. Go wherever your imagination leads. Landscapes, sea views, and quirky patterns can all be part of your wall decorations.
49. Go Green
Houseplants are the traditional way to add a touch of nature to a living space, but there are also more experimental ways of doing this. Mini palm trees are not only decorative and evergreen, but with their exploding leaves, they add drama and an unmistakable hint of the exotic. Position one between two single beds for maximum effect.
50. Make a Patchwork of Rugs
Positioning smaller rugs on top of large ones helps define borders and demarcate space in a bedroom. You can easily and inexpensively change the colour and mood of your bedroom just by introducing rugs with different colours and patterns.
51. Upgrade the Hardware on Your Furniture
A favourite piece might still be in good condition, yet it may still benefit from a few improvements. An efficient way of doing this is to replace knobs, handles or catches with new modern versions. Improved storage is an important part of any bedroom revamp, and smart, attractive cupboards are a great incentive to keep this up.
52. Paint Behind the Headboard
This is where you have to be bold. An accent wall should set the tone for the whole room, so go for solid tones like orange-red or jade. As the feature wall is positioned behind the main line of sight when sleeping, the room can still be a relaxing mix of neutral shades.
53. Experiment the Cost-Effective Way
Want to see what feather motifs look like in your bedroom? An efficient way of doing this is to try out a variety of scatter cushions. The covers come in so many designs, shapes, and colours that you could experiment continuously until you arrive at something you like.
54. Hide Your Clothes Hamper
Hampers are great for storing dirty linen, but they can disrupt the harmony of an otherwise tidy environment, especially when full! Solve this problem by storing the hampers on shelves above your normal cupboards. Easy to pull out and hide away again.
55. Arrange Your Artwork in Threes
Instead of a large and sometimes expensive piece of art, why not hang a line of three smaller frames? The effect is strikingly modern and is a good way of filling the space behind the bed.
56. Brighten up the Floors With Colour
It might not have occurred to you, but floors can be painted too. If you've decided on a neutral colour scheme and have already selected art to go behind the headboard, you may feel that there is no scope for a statement wall. In that case, you could try painting the floors an interesting shade of blue or green.
57. Create the Illusion of Space
Mirrors are great at enhancing light and colour. They also make the room look bigger, especially when arranged correctly. Position them symmetrically or at right angles to windows for greater effect.
58. Wage War on Clutter
You might have to be ruthless about just how many trinkets and items should be left lying around in your bedroom. When it comes to the bedside table, allow only a ring dish, book, and lamp to occupy the space. Everything else should have a home.
59. Allow Neutral Colours to Interact
Sticking to neutral colours in the bedroom is no bad thing: they form the basis of many good design choices. For extra variety, experiment with different textures. Materials as diverse as leather, wool and sheepskin can all complement each other and add vibrancy and interest.
60. The Headboard as an Optical Illusion
A quick and crafty way of fashioning an instant headboard is to tape off an area behind the bed and then fill it with a bold colour. Two coats of your favourite shade should be enough to create the desired effect.
61. Create Your Very Own Exhibition
Using the floor as your starting template, arrange your artwork until you get the desired effect. Take a picture that you can then use as your planning guide as you start to hang pictures along the bedroom wall.
62. The Headboard as Art Space
A big, bold piece of art can be a handy substitute for a headboard. Landscapes and seascapes are particularly effective. Avoid complicated patterns or portraits and try to combine the art with neutral borders that don't crowd the piece.
63. Create a Plush Ottoman on the Cheap
Stretching a vintage carpet over a cheap metal frame yields surprising results. The resulting piece looks exotic and is useful as a traditional footstool or a coffee table – and all for next to nothing.
64. Utilise Your Inheritance
Finally, it always pays to remember what came before us. Family heirlooms weren't meant to gather dust, and if our loved ones got pleasure from them, so should we. Dust off that wrought iron frame and repurpose that old plant pot. Get creative by combining the new with the old.