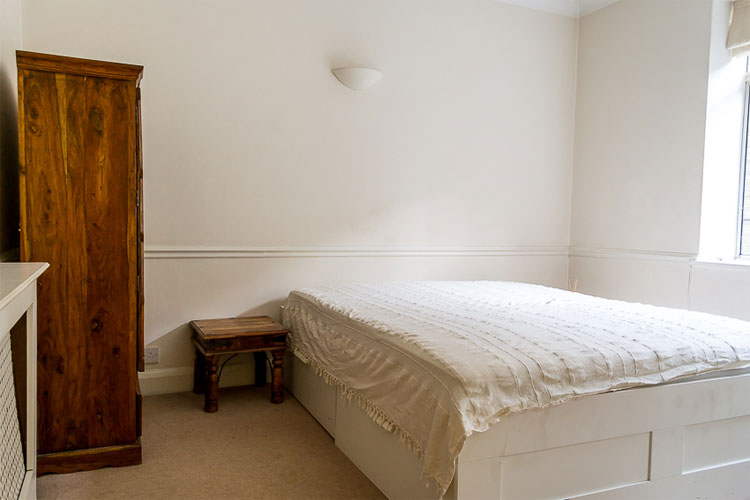 A smart address merits a smart apartment. And Brompton Road in Knightsbridge is one of the smartest addresses you'll find in London. Tired, 1980s style furnishings and a dated kitchen and bathroom just aren't going to appeal to a professional looking for a luxurious rental home in this exclusive part of central London.
Refurbishing an Apartment Reaps Dividends
Our client, the owner of the property, approached us after a mutual acquaintance recommended us. He asked us to transform the flat into a chic, urban bolthole which would appeal to young, professional tenants. And now that we have completed the refurbishment the result has been dramatic, agent who is renting the property for our client has since valued it at £585pw which represents a 46.25% increase.
Creating a Smart, New Interior
First, we had to take the one bedroom apartment back to basics. The décor was shabby, as were the furnishings, so they had to go. Likewise the bathroom and kitchen were dated and had seen better days, so these needed replacing too.
We took out the old kitchen and replaced it with smart, crisp white units, granite effect counter tops and integrated appliances. We also fitted out a luxury shower room with elegant dove grey tiles and white sanitaryware. Throughout the apartment we replaced the threadbare carpets with beautiful wooden flooring as well as installing new light fittings.
Fabulous Furnishings
The furnishings were carefully chosen too. The apartment isn't huge so making the most of the space was important. The key to this was using soft, muted colours throughout, greys, whites and taupes, to create a natural flow and consistency throughout the rooms. Hard furniture such as the dining table, coffee table and TV unit are mainly black with a dash of silver so overall the scheme is an elegant mix of grey, black and silver. Elegant Venetian style mirrors reflect the light from the large windows in the living room, further adding to the feeling of space and light.
This colour scheme of grey, white and black is continued in the bedroom, complemented by soft, natural colours such as walnut and beige.
The overall look is simple and sophisticated yet very comfortable. And the apartment's smart, new interior has allowed the landlord to increase his rent substantially, perfectly illustrating how enhancing presentation can dramatically add value to a property and increase its rental potential.
A delighted Landlord
And how does our client, Mr.Charles H , feel about the work? Well, he is delighted: "I love the new furnishings that InStyle Direct have chosen for the apartment," he comments. "They give the place a really sophisticated feel – it is almost unrecognisable from the way it was before. They have done a great job and were really efficient throughout the project which was finished on time and on budget. I would definitely use them again."